Administering Reports
Managing your Templates
The dashboard also provides ways to manage your existing templates. These templates are just ArcGIS Portal Items, so you may also manage them from your portal (sharing, delete protection, metdata should all be managed from your Portal).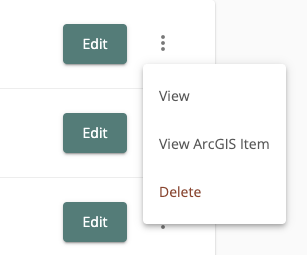 Click the Edit button to make changes to a report.
Clicking the three dots to the right of the Edit button allows you to delete the report, view the report using the default key value, or view the ArcGIS item corresponding to the template. From the view page, you can download a PDF of your report.
Template Storage and Permissions
Infomaptic stores each template as an Item in your ArcGIS Portal (Enterprise or ArcGIS Online). That means that you always have control over your templates, we don't store them (except for a short period of caching when we generate them).
These items are always tagged with the following tags: infomaptic, report_template
This means that you can control permissions to the template by using standard groups and sharing withing ArcGIS. You can find out more about that by reading the sharing documentation on ArcGIS.
It is important that when sharing, you ensure that the users have access to the template, as well as all of the maps and data sources that are consumed by the template.
Templates shared with the Public in your portal will be visible to everyone, although they will need the URL (but this is not secure). Even public views count against your total views if you have a usage based plan.
Finding the Template ID
The Template ID is the same as the Item ID in your ArcGIS Portal. There are two simple ways to find the template ID:
Editing the template and extracting it from the URL, like this:

Viewing the item in your portal (see Managing your Templates) and extracting it from the URL, like this: